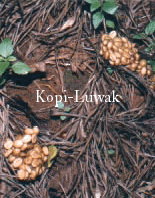 FOR THE FIRST TIME IN INDIA !

In addition to ORGANICALLY GROWN COFFEE, we can also offer

Limited quantities of KOPI-LUWAK



A species of WILD-CAT eats ripe coffee berries and expels the undigested beans!

These are carefully gathered and washed,

Something about the natural fermentation catís stomach seems to make the difference.

| | |
| --- | --- |
| Name | |
| Title | |
| Company | |
| Address | |
| E-mail | |
| Phone | |